B2B Advertising
Reach your audience through targeted B2B ads
Grow your brand awareness, reach target accounts, and close deals with your most valuable prospects.
The advertising solution built for B2B
B2C-focused platforms fall short of meeting the specific needs of B2B advertising. Our platform, designed specifically for the B2B market, delivers your programmatic display ads to your targeted companies with improved efficiency and less wasted ad spend.
Raise awareness with your ICP
Stop wasting your advertising budget on irrelevant impressions. Create brand or product awareness campaigns with Dealfront Promote's highly targeted B2B advertising. Reach specific companies and your target accounts with precision to capture real demand.
Retarget companies, not individuals
Traditional retargeting only reaches the individual website visitor. With account-based remarketing, the entire decision-making team will see your ads. From start to finish, influence the entire buying committee to ensure you close the most critical deals.
Ready to reach your ICP?
Connect with our sales team for a personalized live demo with one of our representatives.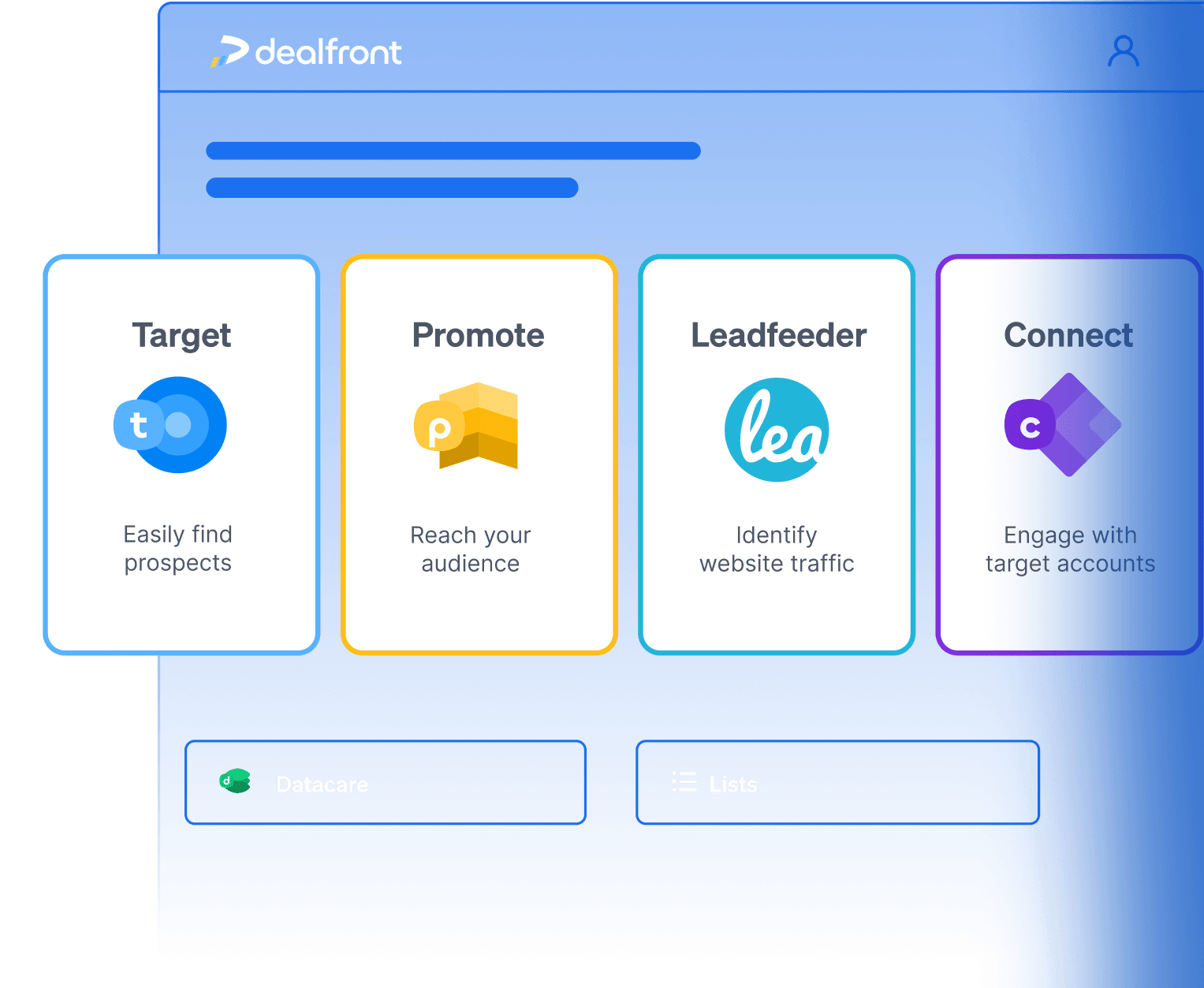 Automatically target open CRM deals
Convert more prospects into customers by advertising to the same companies your sales teams are pursuing. Dealfront automatically updates your list of open CRM deals so you can keep your brand or product top-of-mind with campaigns targeting them, nurtured leads, and prospects.
Improve Google Ads targeting
Boost the performance of your retargeting campaigns with B2B-level personalization. Customize your Google Ads retargeting audiences based on industry, company size, and other firmographic data to show more relevant ads and eliminate ineffective spending.
"Leadfeeder [Dealfront] is a must-have tool for any account-based marketing campaign. Its ability to collect and report on [first]-party intent data has been critical to helping us align our marketing activities and ensure we are reaching the correct accounts."
Uncover the potential of B2B advertising