Buyer Intent Signals
Focus on prospects that show real buying intent
Reach companies that are actively searching or in need of your solution. See when a target account visits your website and get alerted when they are in the news, or hit a Trigger Event
Identify the accounts you're most likely to win
Boost your sales with intent data. Power sales and marketing teams with the right information at the right time, discover what your target accounts need and when it's the best time to reach out.
Capture intent on your website
Track your target account's activity in real time. Know exactly what they look at on your website and leverage this to create personalized outreach at precisely the right time.
"We are able to identify 1000 companies every month (and growing) that browse our websites but don't sign up yet. "
Kristina Fisherova Marketing Specialist at CloudTalk.io
Reach out at the right time using Trigger Events and News
Never miss a sales opportunity again. Immediately see when a target or existing account has new demand for your product with 33 Trigger Events, including job offers, financials, new customers and partnerships, website updates, and more. Get alerts for relevant news or events to spot fresh, upsell and cross-sell opportunities. Then beat your competitors by being the first to sell.
"The clear structure of news about potential new customers within CONNECT makes selling so much easier. We can develop an individualized approach and immediately see if there is currently potential to sell to a company "
Daniel van Lierop CEO @ "alivello"
Ready to get started? Talk to our experts
Connect with our sales team for a personalized live demo with one of our representatives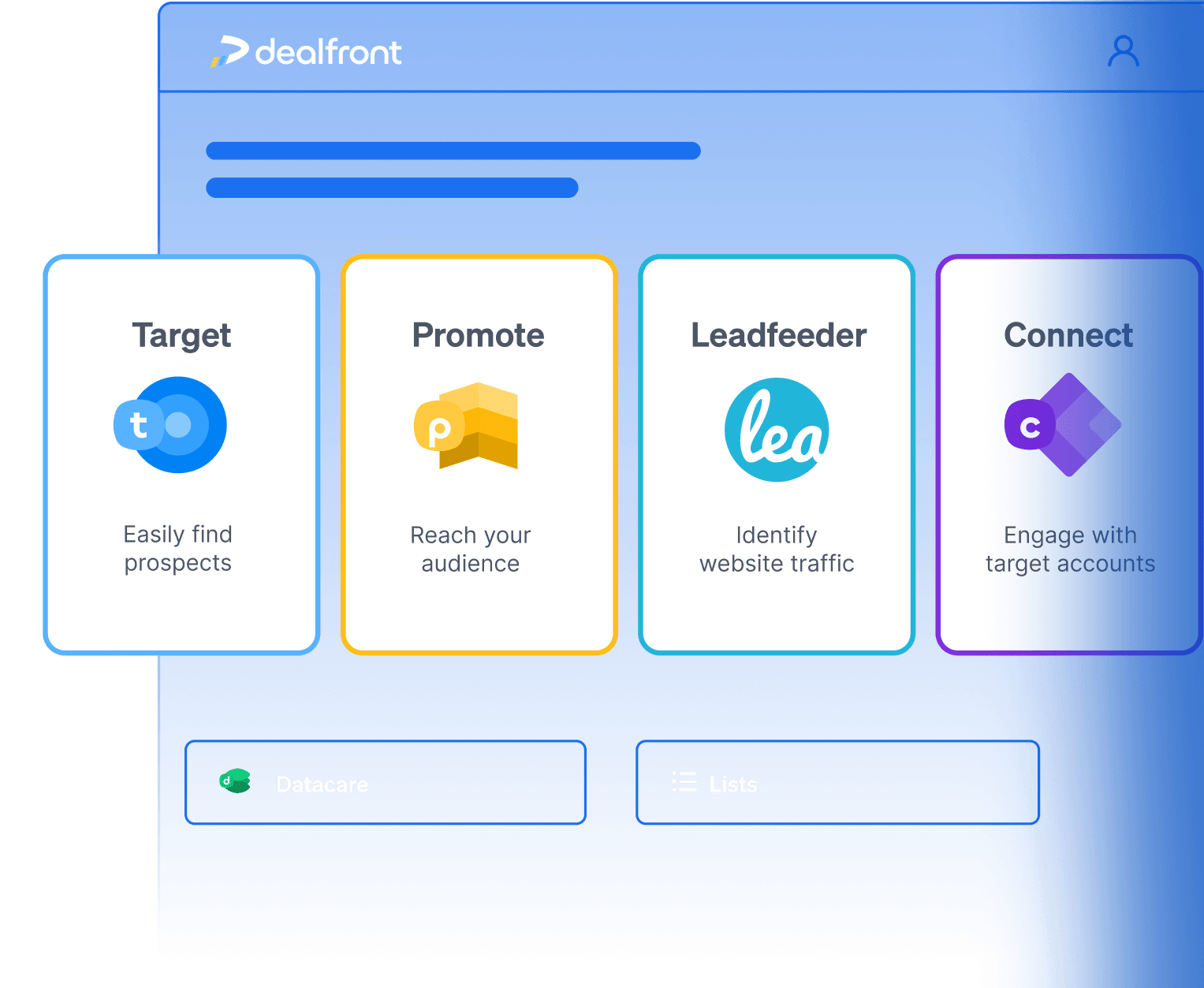 Spot buying signals within job offers data
Certain job positions imply use of certain products. With Dealfront you can monitor job offers to detect a potential need for your product, that comes along with the job ad they just closed. Within the job description of a particular company discover their tech stack, work environment and benefits, that you might be able to address with your offering.
"Additional to new business we also use Leadfeeder [Dealfront] to recognize intent signals within our existing customer base. This gives our account executives the necessary intelligence to reach their up-sell targets."
Discover accounts that are ready to buy